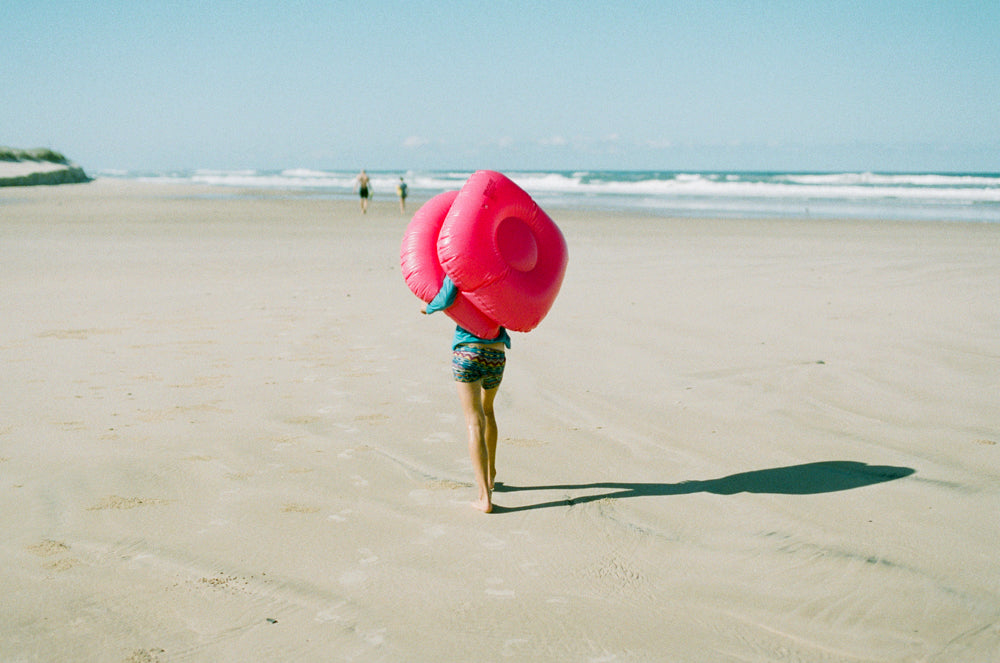 Get Great Family Beach Pics This Summer
The amazing Agi Davis from Agi Davis Photography has joined our blog this week to provide us with some great tips for capturing the best holiday photos this summer.  Agi is an award winning photographer and has been working with Sandy Feet Australia for over 5 years. She has an amazing ability to capture the emotion in any moment.  Luckily for our readers she has shared some tips for making the most of capturing your special moments.
Some time ago I made a decision to avoid digital photography during my family holidays and returned to using film. I took less photographs and I was able to relax and spend more time with my children. My old 35mm camera is the only source of documenting that time. 36 frames are not a lot in comparison to what I'm used to. Sometimes I wait months to develop that roll of film. Every time I develop these memories my heart explodes with love and most of the time I love nearly every single frame. Even if it's not perfectly focused or exposed I still love it and treasure it.
This experience makes me realize even more what makes the photograph important. It needs to contain the love, emotion, honest experience of one another or that peaceful moment of contemplation.  
Taking photos with film softens the  blue of the ocean and ads very vivid contrast in colour.
The beach is one of the best locations for taking beautiful portraits. Natural light and the colour of sand and water offer an amazing photographic backdrop.
Here are some tips on how to capture more exciting beach photographs.
1. Capture fun spontaneous moments. Beach is all about fun and play with friends and family, and this is the you're trying to capture.
It is important to protect your lens from sand if possible by using UV filter. Set your camera setting on manual shutter at least 1/500 -1/1000 of a second to freeze the movement.
Try and use relatively small aperture for deeper depth of field (f/3.5-f/7). Set the lens focus to AF(Autofocus) and select continuous focusing so that the lens can constantly maintain its focus on the moving subject.
2.  Spend some time watching kids play. I like to walk around them to try and capture best moment without disturbing they play. Changing the point of view is so important in finding most interesting photographic frames.
3.  Different time of the day will allow you to capture different moments best.
Middle of the day sun can be very harsh. You are still able to get action shots with great success at this time of the day
Afternoon light is much softer and gentler for portrait style photographs. During this time of the day I often need to change my iso from smallest 100iso to 400iso. 
Taking your camera to the beach can be a delight. You can capture some amazing photos on a bright sunny day, an overcast day or even when it's raining (especially when it's raining). The strong sun lets you use fast shutter speeds and small apertures for sharp photos that stop all motion (like waves, splashing or jumping). The vivid and varied colors at the beach add excitement to all your photographs. 
The most important thing is having fun while taking the images. Enjoying the company of your loved ones in the beautiful surroundings.
Agi is offering readers local to Brisbane, the Sunshine Coast or Gold Coast the chance to get your own memories of a lifetime with a great special: No Session Fee and a FREE 11x14 inch print with any family photography session, a saving of over $250.  Contact Agi today or visit her website to see more examples of her work. What a great Christmas present idea!
For additional photography tips, you see this article here by Pixba.