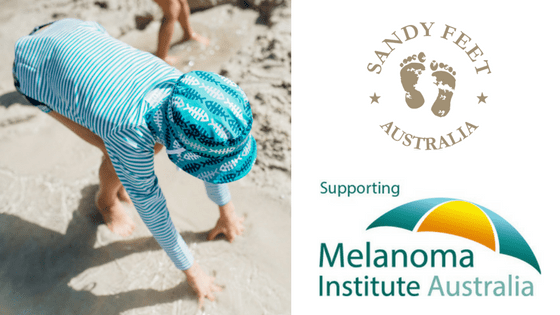 Lead a SunSafe Life with Sandy Feet Australia and Melanoma Institute Australia
As part of National Skin Cancer Action week, Sandy Feet Australia is proud to announce the launch of a new initiative to support Melanoma Institute Australia (MIA) in their ultimate goal of a future with zero deaths from melanoma.  
As many of our followers and customers know, we at Sandy Feet Australia are passionate about helping make it easy for families to balance a healthy outdoor lifestyle with the need to protect ourselves from the harmful effects of UV radiation. 
Australia has one of the highest rates of melanoma in the world.  In fact one person dies from melanoma in Australia every FIVE hours. Research tells us that it is sun exposure leading to sunburn particularly before puberty that puts us at greater risk of developing melanoma later in life. 
Melanoma Institute Australia (MIA) pioneers advances in melanoma research and treatment that are making a real difference to the lives of patients today. MIA is a non-profit organisation dedicated to preventing and curing melanoma through innovative, world-class research, treatment and education programs.
Sandy Feet Australia has committed to supporting the work done by MIA by donating 25% of the purchase price of any of our full priced swimwear purchased via the MIA website.
If you want more information on melanoma and how to Lead a SunSafe life, please visit  Melanoma Institute Australia.  If you would like more information on this initiative please don't hesitate to contact me directly on 0423151434
Thanks, 
Anita White