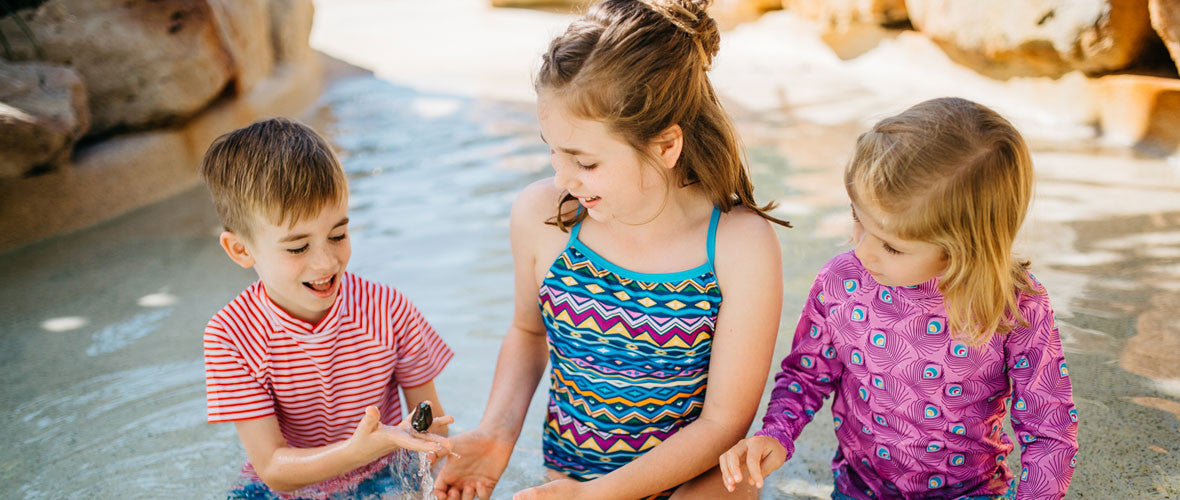 Is Your Child's Swimwear Still Sun Safe?
Most people realise the importance of wearing UPF rated clothing to protect ourselves and our children when we are in the sun. However what people may not realise is that many fabrics start to lose their sun protection as soon as they are exposed to sun, salt, sand and chlorine.
Recently at Sandy Feet Australia we had one of our extremely well loved rashies tested through ARPANSA (Australian Radiation Protection and Nuclear Safety Agency)  to evaluate what the UPF rating was 5 years on. After 5 years of chlorine, sun, salt and sand (and a mother who often forgot to rinse the swimwear straight after use!) the rashie still received a UPF rating of 50+ - the maximum possible rating. Just as importantly the rashie also maintained it shape and vibrancy during this time.
More evidence that you can be confident that when you buy beach or pool wear from   Sandy Feet Australia you are getting a high quality product that truly lasts.
Our entire range at Sandy Feet Australia has achieved the maximum sun protection with a UPF50+ rating, blocking out at least 97.5% of harmful ultraviolet radiation.
For more information on UPF and protecting yourself and your family from ultraviolet radiation please visit the ARPANSA website or The Cancer Council of Australia
For more information on our unique fabrics please see our Product Info Page