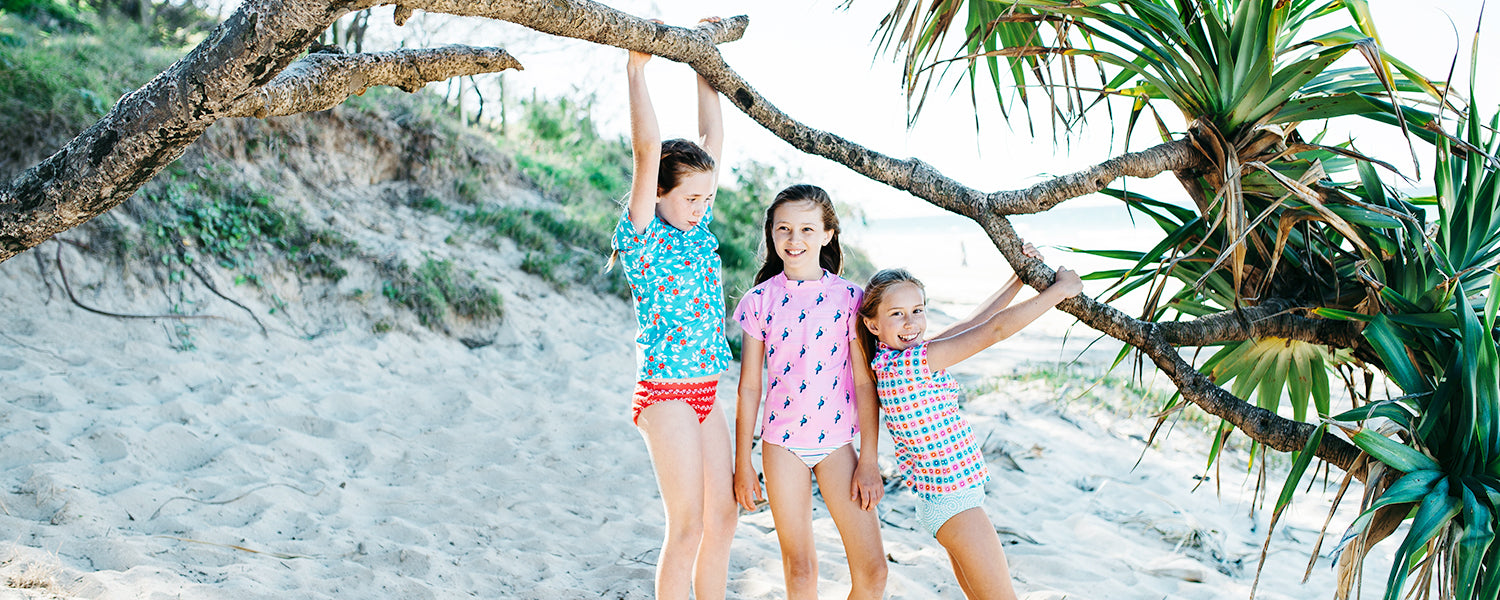 Retro Cool Has Arrived!
Welcome to the Sandy Feet Australia 2017/18 Collection, where the blissful lifestyle enjoyed by our Aussie kids marries with the retro cool of our Scandinavian design heritage. Sandy Feet Australia will have kids diving into summer in style!
Stylish graphic prints, retro stripes, and super cute toucans all feature in the gorgeous new Collection from one of Australia's favourite kids swimwear designers. 
Sandy Feet Australia swimwear is simple yet stunning. Inspired by the stunning surrounding of our Noosa coast line, we have a swimwear range sporting our trademark vivid colours and bold designs.  We select only the highest quality material, in comfortable age appropriate designs, perfectly suited to active youngsters. Most importantly, in our climate and with our lifestyle, Sandy Feet Australia swimwear offer UPF50+ protection that lasts.
This latest collection says retro-cool.  It's a stylish mix and match range with Anita describing her design philosophy for the upcoming season, "The new collection offers a perfect opportunity to have some fun and select mismatched but coordinated graphics and prints – giving your kids a playful but stylish look, plus the advantage of being able to add additional garments piece by piece as the season progresses or as the need arises."
Significantly, all Sandy Feet Australia kids swimwear is UPF50+, Chlorine Proof, Quick Dry and won't fade or stretch over time. Children in Australia spend more time in the sun and water than almost anywhere else in the world. The unique quality found in Sandy Feet garments means your swimwear will retain its UPF50+ value, shape and vibrancy no matter how often your kids use it.
Anita explains "A lot of swimwear now carries the UPF50+ tag.  However, the majority are not chlorine proof and the result is the UPF50+ protection is significantly downgraded as the material deteriorates.  Tests conducted by ARPANSA have shown our swimwear has maintained its UPF 50+ rating after 5 years of use. We are proud to guarantee our swimwear for 12 months, so parents know they are giving the best possible sun protection for their children at the outset, but also as the hot summer months roll on".
The boys' collection features a striking marlin motif, super-cool kombis, Noosa inspired whales on an icy blue background all matched with classic stripes.  It includes long and short sleeve rashies, board shorts, swimshorts and hats.
The girls' collection comes alive with a stunning rainbow geo design, cool stripes, a bold retro-red leaf,  balanced by a softer mint pebble spiral and cute pink toucans which are sure to be a favourite.  It includes long and short sleeve rashies, swimsuits, bikinis, swimshorts and reversible bucket hats.
Sandy Feet is 100% Australian owned and operated, designed for play and made to last!