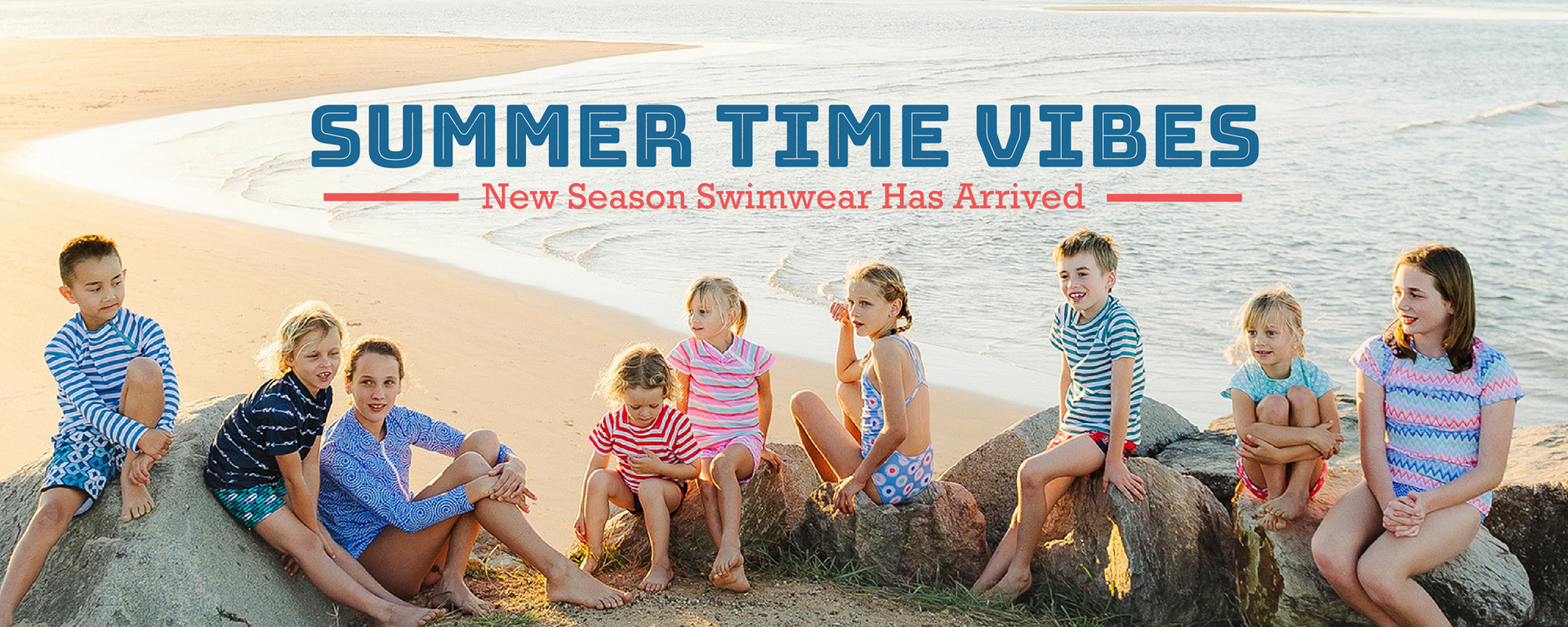 Something For Everyone in Our New Season Swimwear Release
Our Summer 2018/19 collection has arrived just in time to get the family Summer Ready! With an expanded range, new styles and designs, there's something for the entire family. All with the style and quality you've come to expect from Sandy Feet Australia.
Sandy Feet Australia swimwear is simple yet stylish. Inspired by the stunning surroundings of our Noosa coast line, we have a swimwear range sporting our trademark vivid colours and bold designs.  We select only the highest quality material, in comfortable age appropriate designs, perfectly suited to active youngsters. Most importantly, in our climate and with our lifestyle, Sandy Feet Australia swimwear offer UPF50+ protection that lasts. 
This year with our expanded range we've sought to make it even easier to mix and match across the range.  Single coloured stripes and clean geometric shapes that can be contrasted with our more detailed colourful designs and motifs creating even more versatility. 
What's New in 2018/19 
More Choice For Adults
Zip Rashies for Boys
Now Offering Size 14
Bikinis Bottoms that Stay Put
Improved Reversible Hat Design
Expanded Adults Range
This year we've introduced even more styles in our adults range, including a long sleeve option for all the Dad's who want to stay safe in the sun.  We've also introduced a relaxed fit ¾ sleeve rashie for all the mum's that want a bit more room to move.
New Boys Zip Range
Introducing the new boys zip rashie now making it even easier to keep the kids sunsafe. Head hole size is always a difficult issue with rashies, they need to be large enough to make it easy to get them on and off, but not too big as too make them no longer sun safe.  With such a wide variation in children's sizing a great alternative for those children who don't like pulling rashies over their heads is the zip rashie.  We have introduced a boys rashie that contains a small shoulder zip, making it easy for kids to get the rashie on and off themselves. We have also increased the range of zip rashies for girls.    

All styles now available in Size 14
We have expanded the range to include size 14, for all our growing Sandy Feeters!  We had a lot of feedback last year that you wanted a size 14 and here it is. 
Bikini Bottoms That Stay Put
All our bikini bottoms now come with a discreet internal drawstring to both improve fit and ensure your bikini bottoms stay put no matter if you're at the beach or the pool.
Improved Reversible Swim Hats
We've made our reversible swim hats even more versatile with the addition of a removable adjustable chin strap.  Two hats for the price of one, who doesn't love that!
Significantly, all Sandy Feet Australia kids swimwear is UPF50+, Chlorine Proof, Quick Dry and won't fade or stretch over time. Children in Australia spend more time in the sun and water than almost anywhere else in the world. The unique quality found in Sandy Feet garments means your swimwear will retain its UPF50+ value, shape and vibrancy no matter how often your kids use it.
A lot of swimwear now carries the UPF50+ tag.  However, the majority are not chlorine proof and the result is the UPF50+ protection is significantly downgraded as the material deteriorates.  Tests conducted by ARPANSA have shown our swimwear has maintained its UPF 50+ rating after 5 years of use. We are proud to guarantee our swimwear for 12 months, so parents know they are giving the best possible sun protection for their children at the outset, but also as the hot summer months roll on".
 Sandy Feet Australia is 100% Australian owned and operated, designed for play and made to last!