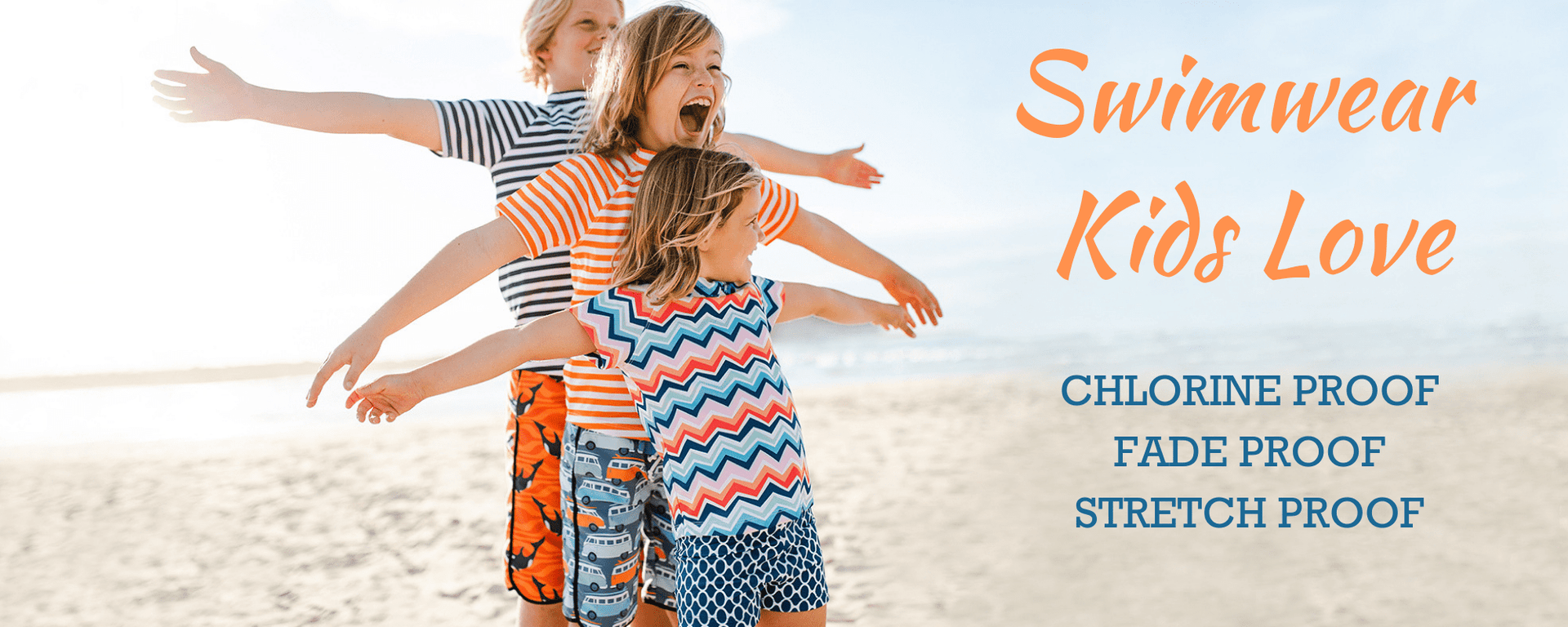 Perfect Summer Days - New Range Out Now
Our Trademark Bold Colours and Vivid Designs are back, and not just for the kids! Stylish graphic prints, retro stripes, bold colour, the much loved Kombi and super cute puffins are just some of what you'll find in our Summer 19/20 collection.
At Sandy Feet Australia we've yet again strived to create a range of stylish mix and match swimwear for active youngsters in comfortable age-appropriate designs. Most importantly, in our climate and with our lifestyle, Sandy Feet Australia swimwear offer UPF50+ protection that lasts. All Sandy Feet Australia's swimwear is UPF50+, Chlorine Proof, Quick Dry and won't fade or stretch over time.
We're very excited to add some gorgeous new styles to our range this year, which we sure you're going to love. 
Girls Long Sleeve SunSuits
Our new long sleeve sunsuits make it easier than ever to cover up in style and comfort this summer. This stylish sun safe sunsuit offers a
High neck line for added sun protection
Closed end front zip with protective backing for extra comfort and ease when dressing. 
Fully lined body front and back 
Modest, athletic cut
There are 3 gorgeous design to choose from, all in our unique UPF50+ Chlorine proof material you've come to love. 
Toddler Sunsuits
Introducing our NEW Toddler Sunsuits, perfect to keep your little water babies Sun Safe as they play at the beach or in the pool this summer. Made from our unique UPF50+ chlorine proof fabric, featuring a long front zip to make for easy changing and a comfy relaxed fit keeping safe in sun has never been easier! There are 2 designs for choose from for both boys and girls, and can be paired with a matching hat for the perfect sunsafe outfit.
 Women's Short Sleeve Rashies
You asked for it – and here it is. Our new women's short sleeve rashies – you also asked for bolder, more colourful designs, and we think you're going to love the new Chevron Colour Burst and Coral Gemstones to brighten up your summer.  Our short sleeve front zip style offers a practical and stylish option for the beach or pool, and we also introduced a more sporty long sleeve design for active beach mums with a shoulder zip that still means getting changed is a breeze.
Take the time to check our new collection, I'm sure you'll find something to suit the whole family.  We're always keen to hear what you think so please get in touch if you have any feedback or suggestions.  
 Sandy Feet Australia is 100% Australian owned and operated, designed for play and made to last!